TOM GETS THE RUNNING BUG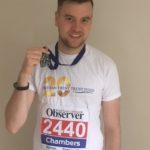 Auriga Services marketing executive Tom Bonser took on his first ever running challenge as part of the Severn Trent Trust Fund 20th Anniversary celebrations, with no prior experience – and loved it!
Tom had never run before when he signed up for the 8.5 mile Great Midlands Fun Run in Sutton Coldfield.  He enlisted the help of a friend that works as a personal trainer and embarked on a structured training plan to get him race ready over the four months leading up to the event.  The training included work in the gym as well as runs over Cannock Chase at the weekends, to take in some hills and running on different terrains.
"I loved the training," says Tom. " It was great to have a plan to work to and to see that I was making improvements each week by increasing the length of my runs and getting stronger. "
The event itself was fantastic said Tom.  "When the day came I felt ready and the positive buzz and added competitive element of running with others kept me going when I felt tired."
Tom completed the event in a good time of 1 hour and 7 minutes and has set himself a new challenge of running a half marathon next.
"I have carried on running regularly and hope to be ready to take on a half marathon by the end of the year," said Tom.
If you are inspired by Tom's story why not take a look at the other sporting challenges we have planned for the rest of the year.  The next success story we feature could be you!