Support from Severn Trent Trust Fund and BDS puts Mr M on road to recovery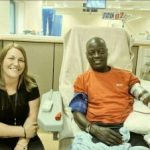 Part time university student Mr M was receiving treatment at the Woodgate Valley Dialysis unit when we met him at one of our regular clinics.
Because of the treatment he was receiving, he was unable to work or attend university and finding it difficult to manage all of his household bills.
As with many of the clients that we see, Mr M was finding it hard to make sense of the forms that he had been given by the authorities to complete.  We began by helping him with a work capability assessment form and we assisted with a claim for Personal Independent Payments.
Once these were completed we moved onto looking at how Severn Trent Trust Fund could help. STTF can provide grants to individuals that are in need of essential household appliances, as was the case with Mr M.   We made a successful claim for funds for a cooker as he did not have one at home. We also helped him apply to British Kidney Patients Association for a grant for a washing machine, another everyday appliance that would help reduce Mr M's outgoings.
Mr M had built up some arrears on his water bill and these were cleared by a Severn Trent Trust Fund grant.  We were then able to reduce his ongoing water bills with the help of The Big Difference Scheme, reducing the cost from £329 per year to just £32.90.
All of this left Mr M in a much better situation but we were able to provide further help and support. Once we had cleared his arears, reduced his future water bills and obtained the new home appliances to keep his outgoings down we turned to his energy costs and his student loan.
We have had his pre-payment electricity meter exchanged to a credit meter, which will save him significantly on his electric costs and we are comparing energy prices to ensure he is on the best available tariff.
We wrote to Mr M's university stating his reason for non-attendance and asked that his funding be set aside so he could reapply and continue studying once he was feeling well enough.  They have taken note of this information and advised that Mr M can access funding again in future should he wish to restart his course.
In total Mr M has received over £400 in grants and reductions for his water bill as well having two new appliances worth £600 but more importantly, moving forward we have helped to increase his ongoing weekly income by £146.
This case study illustrates just how much can be done to provide much needed financial support to those that find themselves unable to cope when they are dealing with  serious health issues. Our work with Mr M has enabled him to concentrate on his recovery without the worry of how to pay his bills.