Severn Trent Trust Fund marks 20th year with vow to support West Midlands renal patients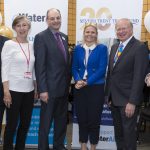 The Severn Trent Trust Fund which supports people in financial distress is celebrating its 20th anniversary with a vow to help hundreds of West Midlands renal patients in a link-up with a Birmingham hospital.
The Fund, launched in 1997, helps individuals who struggle to afford their water bills due to difficulties such as poor health, disability, unemployment or bereavement. It is continuing its pledge to help people, saying its support is needed now more than ever.
The Trust Fund has provided more than £46million in grants supporting over 500,000 people over the past two decades, whilst also offering longer-term support to encourage financial stability.
At a celebratory dinner held at Severn Trent's headquarters in Coventry, Trust Fund CEO, Clive Stone, said they were working with the Queen Elizabeth Hospital, Birmingham to offer specialist income maximisation service to every dialysis patient.
He added: "With this project alone, since 2017, our advisors have worked with patients helping to secure them over £1m in additional income – this equates to more than £5,000 per patient. We expect to maximise income and secure financial gains in excess of £17m throughout the delivery of this project and help change the lives of hundreds more kidney patients throughout the region.
"The need for our support is greater now than ever, as the economic picture in this country is making it harder for many individuals to cover their utility bills, often due to a life-changing crisis."
Severn Trent CEO Liv Garfield said "the Trust Fund has done some 'absolutely fantastic work' and helps form part of 'our broader commitment in supporting our local communities."
To help mark the anniversary, the Trust Fund's management arm, Auriga Services, formed in 2004, organised 20 activities to raise £20,000. Dedicated members of staff smashed the target, presenting £23,142 to international development charity, WaterAid. The charity works in 28 countries across the world to bring clean water, decent toilets and good hygiene to some of the world's poorest and most marginalised people
Fundraising activities included a sky dive, 20,000m sponsored swim, a 200km static bike ride challenge, a jail break and bag packing, while people also entered the Great Midlands Fun Run and a tough mudder-style event.
WaterAid spokesperson Helen Seacombe said: "We are so grateful to the team at Severn Trent Trust fund for their amazing enthusiasm in fundraising more than £23,000 towards WaterAid's vital work. Their incredible support will help some of the world's poorest and most marginalised communities access the basic human rights to clean water, decent toilets and good hygiene."