HELP FOR FAMILIES TO PAY WATER BILLS
Money from Big Difference Scheme could help those struggling to pay bills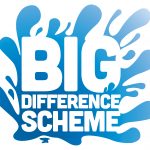 Hard-up families could get financial help to pay their water bills this coming year with help from charitable body, Severn Trent Trust Fund (STTF).
The Big Difference Scheme (BDS) could help those struggling to pay water bills by saving an average of £300 per customer.
The scheme, offered by Severn Trent Water and STTF, aims to help people with growing personal debt get their finances under control in 2017.
Kim Wootton, Operations Director at STTF, said: "Schemes like this are needed more than ever as recent research by the Bank of England  shows personal debt grew by 10.8% in 2016 to £192.2bn in the UK – the highest level since December 2008. With continuing economic uncertainty and higher prices in the shops people will be struggling to pay their bills this year."
"BDS can help all families, you don't have to be unemployed or on benefits to receive it.  For some it has been the first time they have ever had to seek help but in most cases the financial difficulties have been brought about following unexpected life changes such as illness or divorce."
Mark Grice, from Severn Trent Water, said: "The help offered by STTF also includes support to set up payment plans, fast-tracked appointments for advice, and grants for those most in need."
STTF was able to help one individual who was struggling to make ends meet by reducing his water bill to just £32 per year and he also received grants to buy a cooker and a washing machine following an assessment with a STTF adviser.
BDS is available to those that live in the Severn Trent Water area who are finding it difficult to pay water charges. Awards will vary but low income families are most likely to meet the criteria and could be eligible for a reduction ranging from 10% to 90% for a full twelve months.
"We can assess people for a grant for water debt and their eligibility for BDS at the same time," says Kim, "making it one easy step to access both sources of financial support."