20th Anniversary moves forward with Great Midlands Fun Run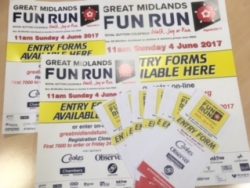 Everyone enjoyed the water themed bake-off we held to launch our anniversary celebrations last month. Preparations for our second event are better for for our waistlines but proving to be a tough challenge for some.
Our second challenge is the Great Midlands Fun Run which is held in Sutton Coldfield each year. The Fun Run will take place on Sunday 4th June 2017 at 11.00 am. We have a team of 15 runners taking part, including some colleagues from Severn Trent.
We are very excited to be taking part in the 8.5 mile route around the town and would love to have your support. Please come and join the fun, it would be great to see you there. It would be even better if you could sponsor us – all donations are gratefully received. More information can be found on our Just Giving page here.
There will be more events announced soon, as we take on our different challenges to raise £20,000 for Water Aid to celebrate 20 years of service.