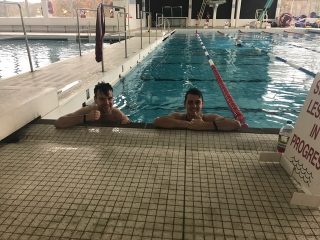 Severn Trent Trust Fund do swimmingly well in their eighth charity challenge
13/11/2017 - 1:30 pm
During the week commencing 13th November, four members of Auriga Services dived into the pool as they continued their journey to raise money for WaterAid UK to celebrate the 20th Anniversary of the Severn Trent Trust Fund.
The challenge took place at Wyndley Leisure Centre, Sutton Coldfield, who kindly donated a lane for us to use throughout the week. The goal was to swim 20,000m over the course of the week involving 800 lengths for our four keen swimmers.
The team swam in groups of 2 each day for an hour as they attempted to complete the challenge by 3.30pm on Friday 17th November. Over 1,000 lengths of the pool were achieved, meaning they exceeded the target.
As well as beating the target, the team raised a total of £200 with proceeds going towards the £20,000 target.
Joe Millington, Office Assistant said "It was a tough but fun challenge to take part in, unlike the other challenges this lasted the week so you had to keep yourself going as it was physically quite draining.
We all did incredibly well to not only hit the target but also go over it. Most importantly we raised money for a worthy cause."
Our next challenge will see us hop on the bikes as we undertake a static biking challenge on Thursday 7th December and Friday 8th December at Gracechurch Shopping Centre. You can find out more about the challenge here.
The Severn Trent Trust Fund are celebrating their 20 Year Anniversary. To celebrate the milestone, we are aiming to raise over £20,000 throughout the year for WaterAid by taking part in a series of charity challenges. WaterAid helps the world's poorest communities to transform their lives with clean water.
You can find out more information about how to support WaterAid and the Severn Trent Trust Fund team on their 20 charity challenges here.