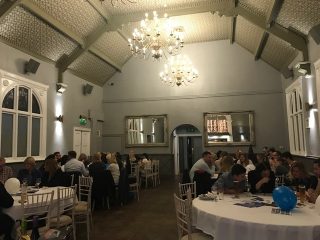 Severn Trent Trust Fund gets Quizzical for Charity
26/10/2017 - 7:00 pm
The Severn Trent Trust Fund Charity Quiz took place on Thursday 26th October at the Royal Hotel in Sutton Coldfield and what a night it was. Ten teams entered the quiz, hoping to be crowned champions of the evening.
Whilst there was a lot of fun and laughter, there was also some 'healthy' competition in the pursuit to complete the quiz and the challenging rounds including water,history, sport and music.
All the teams did exceptionally well but the winners of the night were Auriga Assist who led on the scoreboard with 91 points, only 0.5 points ahead of the runners up.
A raffle and auction also took place during the night with some fantastic prizes donated by local businesses, bringing in single donations of at least £60 for some prizes.
A huge thank you to all the local businesses who supported and kindly donated prizes as well as everyone who took part in the quiz. Also thank you to the Royal Hotel, Sutton Coldfield for hosting the event and providing great food and drink throughout the evening to keep our quizzers going!
It was a very successful and enjoyable evening, which raised over £1,500 which will go towards the Trust Funds target of £20,000.
As one activity finishes, another begins! Severn Trent Trust Fund are now preparing for their next challenge, which is to swim 20,000 metres over the course of a week.
To donate and help Severn Trent Trust Fund to meet their target of £20,000 for WaterAid visit the Just Giving page – www.justgiving.com/fundraising/sttf20
The Severn Trent Trust Fund are celebrating their 20 Year Anniversary. To celebrate the milestone, the aim is to raise over £20,000 throughout the year for WaterAid by taking part in a series of charity challenges. WaterAid helps the world's poorest communities to transform their lives with clean water.
You can find out more information about how to support WaterAid and the Severn Trent Trust Fund team on their 20 charity challenges here.