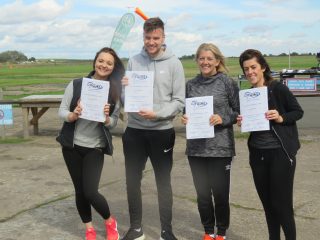 Severn Trent Trust Fund skydive raises £2000 for WaterAid
08/09/2017 - 9:00 am
Four intrepid members of the marketing team at Auriga took to the skies and raised over £2,000 for the Severn Trent Trust Fund 20th Anniversary charity, WaterAid.
Carol Arnold, Ruth Clarke, Catherine White and Tom Bonser conquered their fears to do the tandem skydive at the British Parachute Schools ltd, Nottingham.
Ruth Clarke, marketing manager at Auriga said "It was an incredible experience for all of us. I'm really proud of our team for taking on the challenge. The support has been fantastic and we are delighted to have reached our target of £2,000"
STTF aims to raise £20,000 for WaterAid by March 2018. WaterAid help the world's poorest communities to transform their lives with clean water. 1 in 10 people don't have access to safe water and 1 in 3 don't have access to a decent toilet.
Find out more about how to support WaterAid and how to support STTF here.