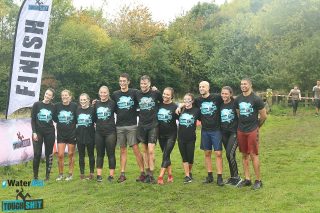 Severn Trent Trust Fund Team takes on Tough Sh!t
01/10/2017 - 11:00 am
On Sunday the 1st October, a team of 11 from the Severn Trent Trust Fund took part in Tough Sh!t, an event organised by WaterAid.
The challenging 9k course held at Severn Trent's Carsington Water, Ashbourne saw the team take on a series of challenges including crawling through a mud-filled tent, scaling through a brook and climbing through a mud soaked hill!
The team did incredibly well and managed to complete the course in 1 hour 45 minutes, raising over £1,000.
Catherine White, Bid Manager said: "We had a great day filled with mud, sweat and river water! Even though we were not the fastest, we all tried our best and helped each other around the course. A fantastic day raising money for a worthy cause."
The fundraising has not stopped there; the team continue to receive donations for the challenge, which will go towards the Severn Trent Trust Fund Anniversary target to raise £20,000 throughout the year for WaterAid.
The next charity event which will take place on Thursday 26th October, is a quiz night at the Royal Hotel in Sutton Coldfield. Put your knowledge to the test and join in! You can find out more as well as how to purchase tickets here.
The Severn Trent Trust Fund are celebrating their 20 Year Anniversary. To celebrate the milestone, we are aiming to raise over £20,000 throughout the year for WaterAid by taking part in a series of charity challenges. WaterAid helps the world's poorest communities to transform their lives with clean water.
You can find out more information about how to support WaterAid and the Severn Trent Trust Fund team on their 20 charity challenges here.