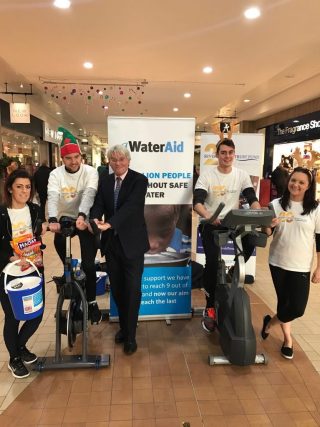 Severn Trent Trust Fund cycles into their final challenge of 2017
07/12/2017 - 9:00 am
On the 7th and 8th December Severn Trent Trust Fund and Auriga employees took on their ninth and final challenge of the year, raising money for WaterAid at the Gracechurch Shopping Centre in Sutton Coldfield.
Volunteers spent two days cycling their way to meet the 200km target on static bikes, donated by Better Gym in Mere Green and the Gym Group, Sutton Coldfield.
Whilst it was physically challenging on the legs, the cold weather conditions also had an impact, the team didn't give up and cycled their way to meet the target. It was great to have so many shoppers stop by taking an interest and motivating the team with positive comments and generous donations. Local MP Andrew Mitchell also stopped by on the last day to show his support.
The team did incredibly well, hitting the 200km target on the Thursday, which then doubled to just over 400km by the end of the second day.
Once the challenge was complete, all donations were counted, confirming the amount raised by the Severn Trent Trust Fund team to be £543. WaterAid have also confirmed that every pound raised from 1st November to January 31st will be matched by the UK Government, doubling the total to £1,086.
Ruth Clarke, Marketing Manager said "It was a fun but challenging two days on the bike. The weather was not ideal but we kept each other motivated, and achieving well over our target was a massive boost. Sutton Coldfield shoppers and workers were very kind with their donations, which really lifted all of our spirits especially in the lead up to Christmas. Thank you to Andrew Mitchell for supporting us and to everyone who donated to this worthwhile cause."
The Severn Trent Trust Fund are celebrating their 20 Year Anniversary. To celebrate the milestone, we are aiming to raise over £20,000 for WaterAid by taking part in a series of charity challenges. WaterAid help's the worlds poorest communities to transform their lives with clean water.
You can find out more information about how to support WaterAid and the Severn Trent Trust Fund team on their 20 charity challenges here.
To donate and help Severn Trent Trust Fund to meet their target of £20,000 for WaterAid visit the Just Giving Page – www.justgiving.com/fundraising/sttf20