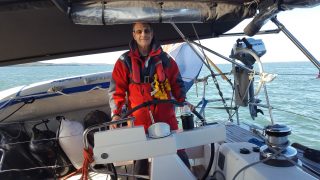 Mark Takes on Sailing Challenge for STTF Anniversary Celebrations
02/10/2017 - 9:00 am
On Monday 2nd October, Auriga Services CEO Mark Abrams took on a sailing challenge as part of the Severn Trent Trust Fund's 20 Charity Challenges.
Originally the challenge started as an idea to complete a "round the island" sail of the Isle of Wight which is around 50 nautical miles. This idea then transpired further into the challenge that Mark and 5 other keen sailors undertook.
They set sail from Gosport early Monday morning on board the Fuller Spirit a yacht owned by Birmingham businessman Patrick Fuller who kindly donated his boat for the challenge. Over the next 5 days the team would encounter all kinds of different conditions from the rough to the smooth!
Thankfully only wind swept hair was the issue and the team managed to complete their challenge, sailing an amazing 251 miles from Gosport to Guernsey via Alderney and back over the course of 5 days.
Mark said "It was great fun and a good challenge to take part in considering the different conditions that we had to face. Thanks to Patrick for allowing us to use his boat and helping raise money to a great cause!"
The team between them have so far raised an amazing £795 for WaterAid and are hoping to boost this up to £2,000 in due course.
The Severn Trent Trust Fund are celebrating their 20 Year Anniversary. To celebrate the milestone, we are aiming to raise over £20,000 throughout the year for WaterAid by taking part in a series of charity challenges. WaterAid helps the world's poorest communities to transform their lives with clean water.
You can find out more information about how to support WaterAid and the Severn Trent Trust Fund team on their 20 charity challenges here.