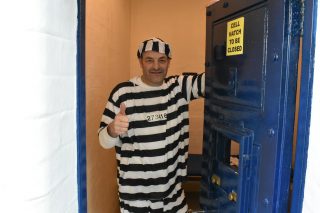 Jailbreak raises over £7,500 for WaterAid
27/02/2018 - 9:00 am
Tuesday 27th February was the day that executives from Severn Trent Water and Auriga Services were locked in a cell to help raise £20k for WaterAid UK. The challenge was one from a yearlong of activities organised to celebrate 20 years of the Severn Trent Trust Fund operating.
Tony Ballance, Director of Strategy and Regulation at Severn Trent Water and CEO of Auriga Services, Mark Abrams were sent to the cells in the 'Lock Up', formerly Steelhouse Lane Prison in Birmingham with only their phone and laptop. The prisoners were not released until they reached their target bail of £2,500 each.
The day was a huge success, raising a total over £7,500.
Mark Abrams CEO said "Being locked up in the cell for the day is not something that I ever imagined myself doing. It was an experience to say the least, but I am overwhelmed with the response to my telephone calls and emails pleading for help. A huge thank you to all who supported WaterAid – you've made a real difference to people's lives. I apologies to those that wanted me locked up for longer."
There are still a number of activities to complete and reach the target of £20k before the 20th Anniversary lunch in April.
WaterAid help the world's poorest communities to transform their lives with clean water. 1 in 10 people don't have access to safe water and 1 in 3 don't have access to a decent toilet. To donate to this worthwhile cause and support the Severn Trent Trust Fund visit our Just Giving page here.
You can find out more information about how to support WaterAid and the Severn Trent Trust Fund team on their 20 charity challenges here.